The Alton greenhouse range
If you are looking for a special greenhouse, then the Alton range is for you. Their greenhouses are made from the finest Western Red Cedar which does not swell, twist or warp as well as being virtually immune to decay. This prestige range of greenhouses are scientifically proven to provide a superior growing environment when compared to the traditional aluminium design and would make a truly beautiful addition to any garden.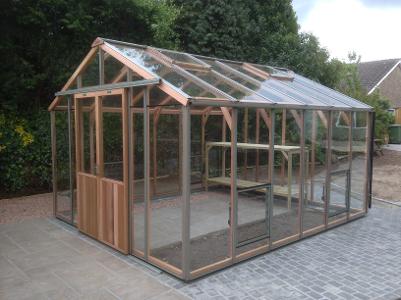 Alton Octagonal greenhouse
With its distinctive design, this octagonal greenhouse offers you extra width as well as the option of double doors enabling easy access for wheelchair users.
Boasting eaves of 6' high, it makes gardening comfortable for even the tallest gardeners.
As standard this model comes with 2 manual side windows, a downpipe as well as an automatic roof vent to support temperature management.
As an optional extra, this greenhouse is available as a 'glass to ground' design.
The Alton Evolution
Have the best of both worlds with this mixed aluminium and wooden frame greenhouse.
Auto vents are included as standard to regulate the temperature of your greenhouse protecting your plants from overheating.
With 5'7' eaves, the Evolution offers plenty of headroom as well as space for high shelves.
Full length downpipes come as standard with this product as well as louvres to support temperature control.