The Robinsons greenhouse range
When you buy a Robinsons greenhouse, you are investing in one of the highest quality products available on the market. Used by both amateurs and professional gardeners alike, these stunning greenhouses are innovatively designed giving you the maximum growing space. Combining durability and strength, these greenhouses will stand the test of time as well as the British weather!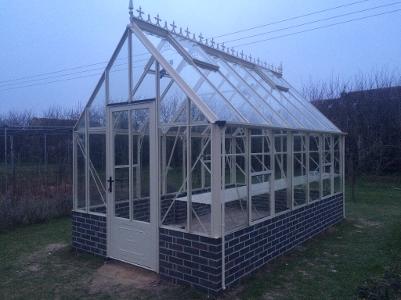 The Robinsons Regal Greenhouse
The most robust greenhouse in the Robinsons range, this model boasts double sliding lockable doors giving you peace of mind.
Automatic roof vents, integral guttering and downpipes come as a standard addition to this product.
4mm toughened safety glass combined with full length glazing give this greenhouse a traditional look along with the reassurance that it is a durable and strong greenhouse.
The Robinsons Victorian range
This stunning range of greenhouses are specifically designed with a 45 degree pitched roof providing you with extra space as well as improved light transmission.
With cast aluminium spandrels this model boasts increased strength and durability.
With more automatic roof vents than other models, this greenhouse creates the perfect growing environment for your plants.
Available in Heritage Ivory, a colour exclusive to the Victorian range.