The Vitavia greenhouse range
The Vitavia range offers something for everyone! From a beginner who is looking for a greenhouse to get started, to a seasoned gardener looking for a premium product, Vitavia has it all. As one of the leading providers of hobby greenhouses in Europe you can be sure that you are getting a quality product, available in a choice of colours and finishes with standard guttering and vents as part of your package. Vitavia also offer a variety of accessories to compliment your purchase.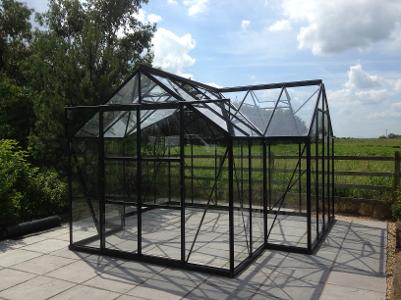 The Saturn greenhouse;
Available in 5 sizes.
With it's curved eaves and modern design this greenhouse makes an elegant edition to any garden.
Offers double doors on all sizes for increased accessibility
Up to 4 vents are supplied with this product as well as UV protected acrylic panels for the eaves.
Available in a variety of finishes.
The Sirius 1300 'Orengary style' greenhouse:
12'x 12' with an impressive growing space of 140ft
This spacious design offers an eaves height of 1.56m giving you room to garden as well as relax!
4mm float glass is held in place with their new black rubber capping system.
Provided as standard with this product is a strong matching steel base and three downpipes.
Available in a variety of finishes.